---
---
Jump to Recipe ↓
Drinking Maple Sap
While countless folks get excited for sugaring season and the subsequent deluge of maple products, the sap itself often gets left in the dust. Many people view the dilute sap as a pesky impediment to their sweet, sweet maple syrup, seeing as they have to boil it down to 2.5% of its initial volume to produce syrup. However, the sap is actually one of my favorite parts of sugaring season!
The sap has a subtle sweetness similar to black locust blossoms, but with a pleasant hint of tree. It does not have the strong flavor of concentrated maple syrup. Some folks compare it to coconut water, although maple sap has a much more pleasant flavor and a thinner consistency.
Depending on the species and the tree, maple sap contains around 2-4% sugar, and it contains all of the nutrients that are discarded in the sugaring process as "niter". According to the USDA FoodData Central website, the sap contains a range of nutrients including Calcium, Iron, Potassium, and Manganese.
To procure some maple sap, you can tap any species of maple (genus Acer), although sugar maples A. saccharum are the most common. My yard is full of red maples A. rubrum, so that's what I've been sipping on this year. For a small family primarily interested in drinking sap, one tap should be sufficient.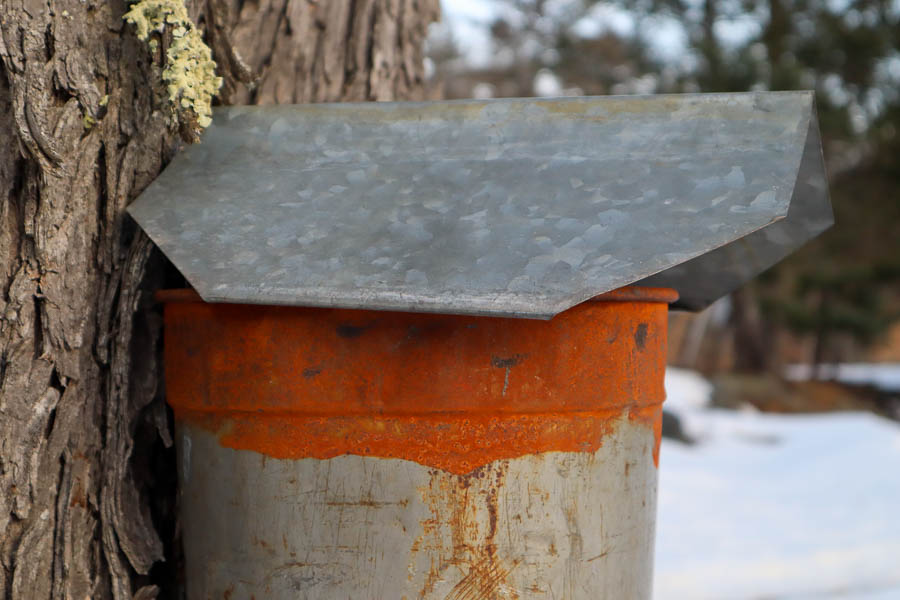 Maple Sap Safety
At the beginning of sugaring season, early March here in the Upper Valley, the sap runs pure and clear, just like water. However, as the season progresses, a bacterial culture forms in the collection buckets. From my understanding, this culture is responsible in part for the darkening of the syrup as the season progresses. It can also be responsible for making you sick if you drink it without boiling.
A good rule of thumb is that if the sap is pure and clear just like fresh water, it should be okay to drink plain. However, as soon as any color or change in viscosity occurs, you need to boil it for at least 1 minute before drinking. The sap should be safe to drink after boiling - the yellow-tinged sap is routinely used in maple syrup production, so no need to worry about the slight color change.
Do be aware that maple sap spoils relatively quickly. On warmer days, when the high is above freezing, you should collect your sap once a day and drink it or move it to the fridge. Make sure to drink it regularly - if it smells off to you, throw it in your garden for your plants - they love the nutrients!
Maple Sap Safety Guidelines

The safest way to consume maple sap is by boiling it for 1 full minute.
If the sap is pure and clear like water, it should be okay to drink raw. If you have any doubts or concerns whatsoever, just boil the sap.
If the sap does NOT look like clear water, it must be boiled for 1 full minute before consuming.
On warm days, collect sap at least once a day and store it in your fridge.
Throw out any sap that smells off.
If you're collecting in an old-fashioned pail with a metal hat, be sure to strain out any critters or leaves that find their way into the sap.

Maple Sap Masala Chai
For optimal safety, I wanted to make a recipe that included the minute-long boil as part of its process. Tea and hot drinks made a lot of sense and since I am a lifelong masala chai fan, I felt drawn to adapt my favorite recipe to my wild ways (find some other ideas below!). Maple sap was a natural fit since masala chai is typically sweetened. I was pleased to find that the sap provided enough sweetness for my personal taste, although some folks might like to add a touch of sweetener to theirs.
I also adapted the corresponding chai spice mix to add some foraged flavor. Although cardamom is inimitable and a classic ingredient in many chai spice mixes, I decided to leave it out due to the soaring prices caused by the changing climate. While they could never truly replace cardamom, I added some ground spicebush berries to take the mix in a foraged North American direction. While classic masala chai fans may not be convinced, I present this recipe as a newfangled foraged option.
Maple Sap Masala Chai Recipe
If you already have a favorite chai spice mix lying around, feel free to use it instead of the recipe provided below. I recommend using generic black tea bags for masala chai - the spice mix tends to mask any delicate flavors that emanate from high-quality tea leaves. A good simple brand is PG Tips.
Based on Meera Sodha's suggestion, I like to use the serving mugs as measuring devices. This ensures that you'll have the perfect amount of chai! Just make sure that your mug is between 8-12 ounces, or you should scale up the entire recipe. This recipe is adapted from "The perfect masala chai" in Meera Sodha's wonderful book Made in India.
Makes: 1 small mug, but is easily adapted for a crowd
Active time: 10 minutes
Maple Sap Chai Ingredients
¾

mug strained maple sap (see Maple Sap Safety section above)

¼

mug oat or cow's milk

¼

teaspoon chai masala spice mix (see recipe below)

1

black tea bag, or 1 teaspoon loose black tea leaves

½

teaspoon maple syrup, or to taste (optional)
Maple Sap Chai Directions
In a small saucepan over medium-high heat, combine the maple sap, milk, chai spice mix, and black tea bag or leaves. Bring to a boil and sustain the boil for one full minute, making sure that it doesn't boil over. The one-minute boil ensures that the maple sap is safe to drink.
Place a fine-mesh tea strainer over the mug, and strain the tea into the mug. Remove the strainer, and taste the tea. It should be equal parts sweet, spicy, and milky. Sweeten with additional maple syrup if desired.
Chai Masala Spice Mix Recipe
Ground spicebush berries Lindera benzoin give this chai spice mix a foraged twist. For a more traditional chai, swap out the ground spicebush berries for 2 Tablespoons of ground cardamom. This recipe is the result of a few years of tinkering on Meera Sodha's chai masala to suit my personal preferences.
Makes: 1/2 cup spice mix, enough for 100 cups of masala chai
Active time: 5 minutes
Chai Masala Ingredients
3

Tablespoons ground cinnamon

2

Tablespoons ground ginger

1

Tablespoon + 1 teaspoon ground spicebush berries

1

Tablespoon ground cloves

1

Tablespoon ground black pepper
Chai Masala Directions
Combine all of the ingredients in a small bowl. Mix them thoroughly, then pour into a jar with a tight-fitting lid. The spice mix will keep for roughly 6 months, stored in a cupboard.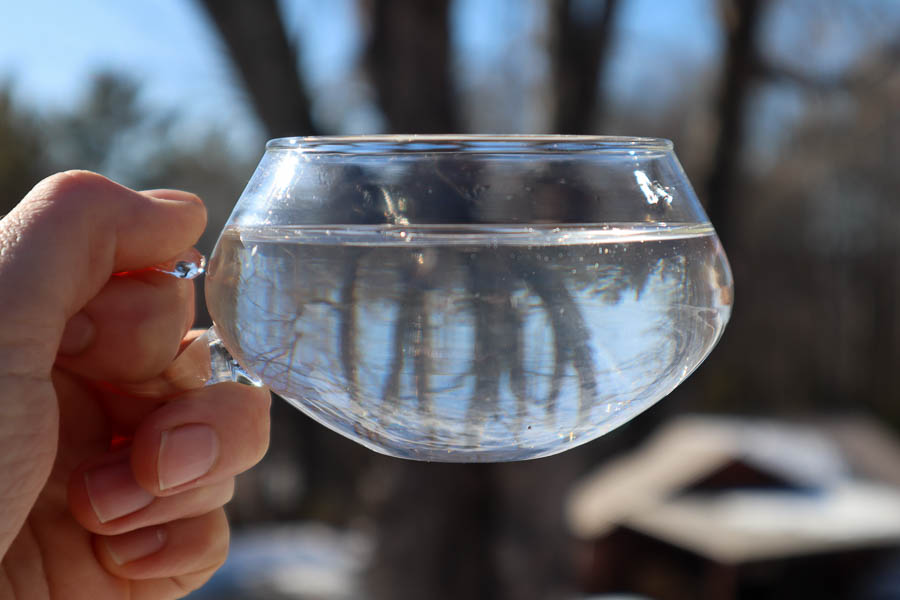 Other Maple Sap Drink Ideas
If you don't feel like spicing it up, maple sap is great in any tea, herbal or caffeinated! Just heat up the sap and brew normally. I've enjoyed many a green tea brewed with maple sap. Just make sure to follow the guidelines above for maple sap safety.
Maple sap is also wonderful for brewing coffee. Just make sure that your coffee brewing device is easily-cleaned since the maple sap contains sugar, which microbes love to munch on. A French press is a great option.
The vitamin and mineral content of maple sap along with its natural sugars make the plain sap a great energy drink! I love to sip on it after working out or on long hikes.
References
Incredible Wild Edibles: 36 Plants That Can Change Your Life, by Samuel Thayer, Forager's Harvest Press, 2017, pp. 187–218.
"Maple water." FoodData Central, fdc.nal.usda.gov/fdc-app.html#/food-details/1238489/nutrients.
---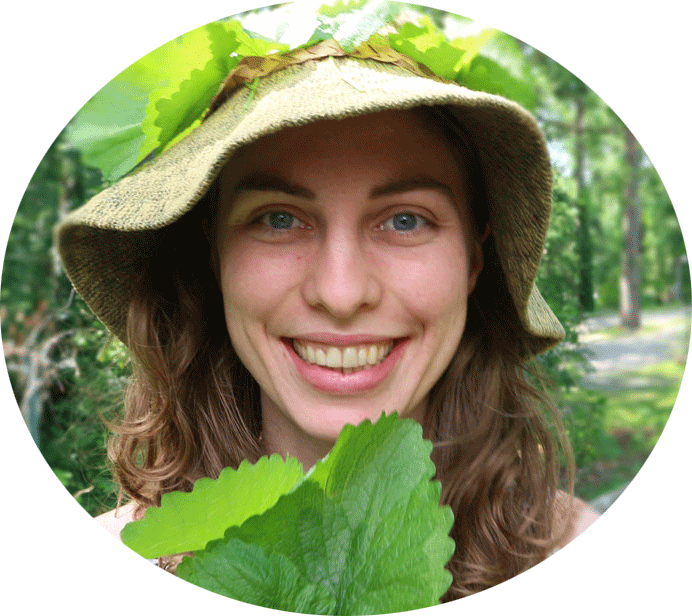 ---
More Drink Posts