---
---
Jump to Recipe ↓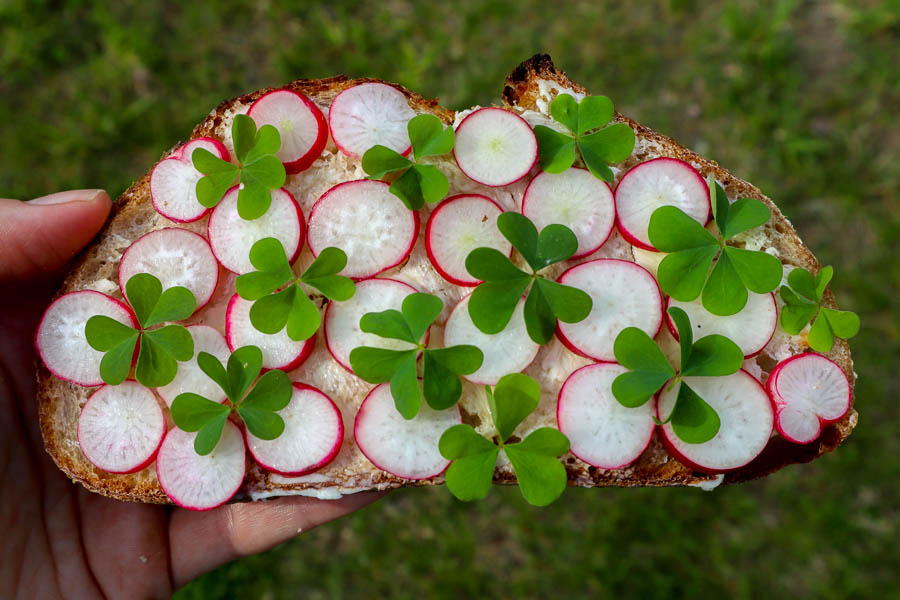 Wood Sorrel and Radish Tartine
Radishes have always felt out of reach to me. Growing up rather vegetable-illiterate, I was frequently captivated by the ruby rings that splashed across the pages of French cookbooks. I wasn't sure what sort of creature, mushroom, or plant they belonged to, but their vibrant rings seemed like a luxury only a true Parisian could enjoy.
My big radish breakthrough came a few years ago when I learned that I could plant French breakfast radishes in my American soil. Several weeks later, my hands were dripping in pink radishes. Although I had been foraging for a while, that was the first food that I had grown with my own hands.
A nice tartine seemed like the best way to celebrate those lavish jewels. Radish and butter tartines, or open-faced sandwiches, are a classic French treat, but I think they are greatly improved with a little wood sorrel (Oxalis stricta).
Wood sorrel's lemony tang and heart-shaped leaves contribute flavor, style, and an untamed element to these classy sandwiches. I feel like an elegant French lady each spring when the radishes roll around and I can slice up a few all for myself.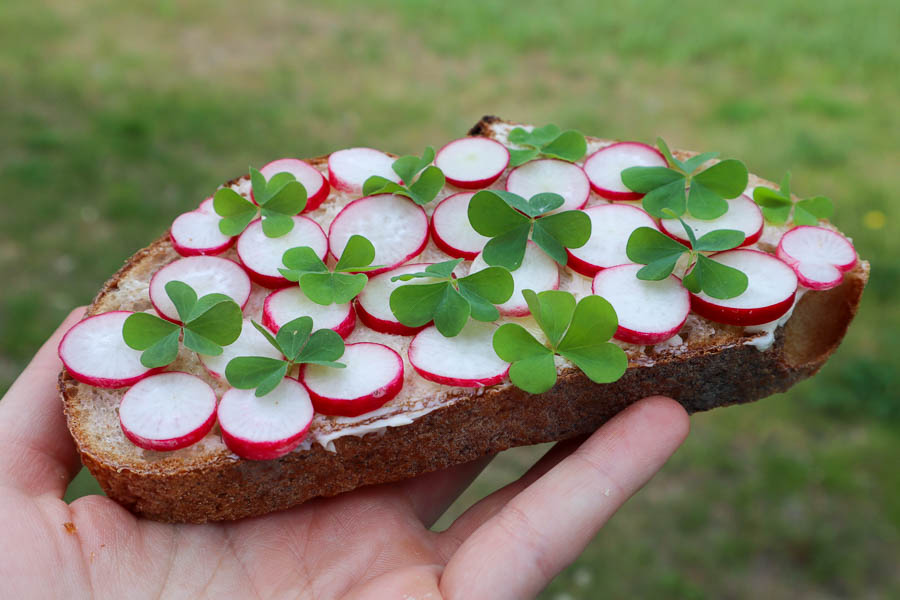 Wood Sorrel and Radish Tartine Recipe
Tartines by nature are easygoing and customizable, so I have left the instructions rather loose. If you don't have flaky sea salt, fine sea salt will do. If your radishes are small, try cutting them diagonally to get larger slices. I tend to slice them about ⅛ inch thin, but feel free to make them thicker if you'd like to dial up the crunch.
Serves: 2 as a breakfast or light lunch
Active time: 5 minutes
Wood Sorrel and Radish Tartine Ingredients
2

thick slices of sourdough bread, lightly toasted

Unsalted butter, at room temperature

4 to 6

French breakfast radishes, thinly sliced

Flaky sea salt, such as Maldon

Handful of wood sorrel leaves
Wood Sorrel and Radish Tartine Directions
Spread a slick of butter on one side of your sourdough slices. Gently press the radish slices into the butter, securing them in their buttery home. Sprinkle some sea salt over the radishes and top with fresh wood sorrel leaves. Enjoy!
---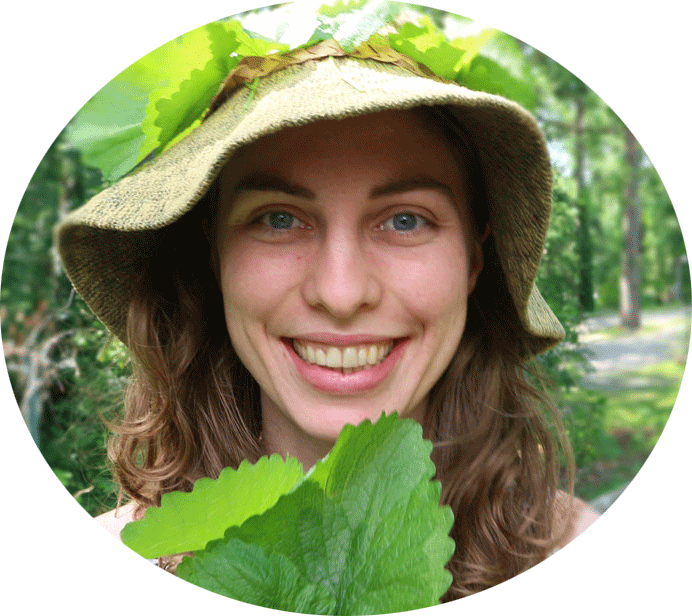 ---
More Summer Posts