---
---
Jump to Recipe ↓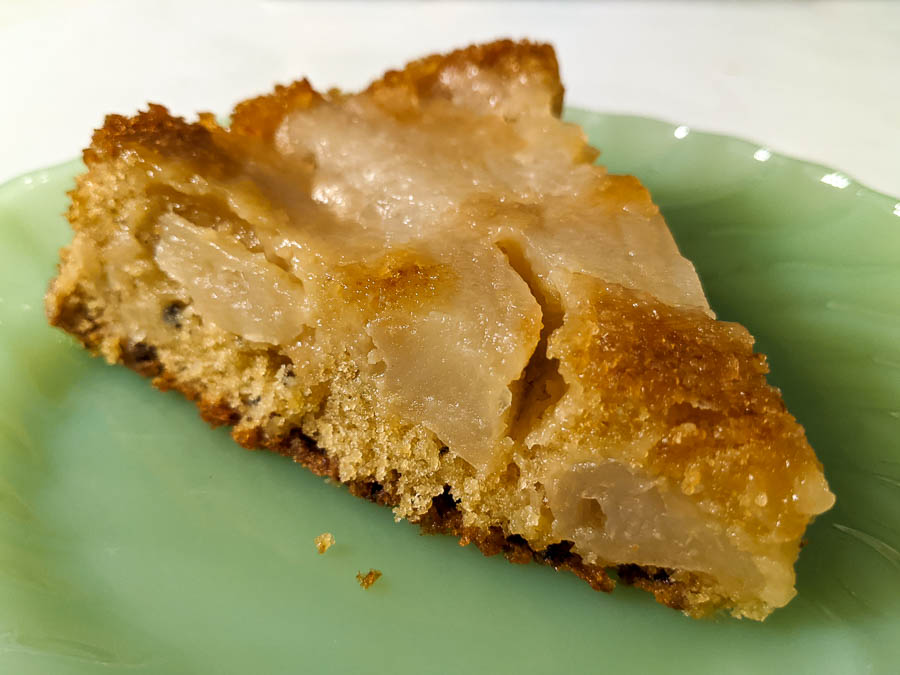 French Apple Cake with Spicebush Berries
Spicebush berries have one of my favorite flavors of the wild because their complex flavor really holds its own when used in baked goods. This brilliant red berry adds the unmistakable zing of fresh orange peel, along with notes of cinnamon, allspice, and even a hint of nutmeg! When baking with spicebush, I tend to use the spicebush berries (aka spiceberries) as the only flavoring because they have such a pleasant and complex flavor.
My favorite way of working with spiceberries is to dehydrate them after the fall harvest, then store them in a jar in my freezer to prevent rancidity. Once dehydrated and frozen, they make a lovely spicebush berry powder when run through a coffee grinder or spice mill. Some people like to separate the flesh and the seed of the berry before dehydrating to use in separate applications, but I find that I enjoy the complex flavor of the whole berries. Plus, I have no desire to sit around skinning spiceberries!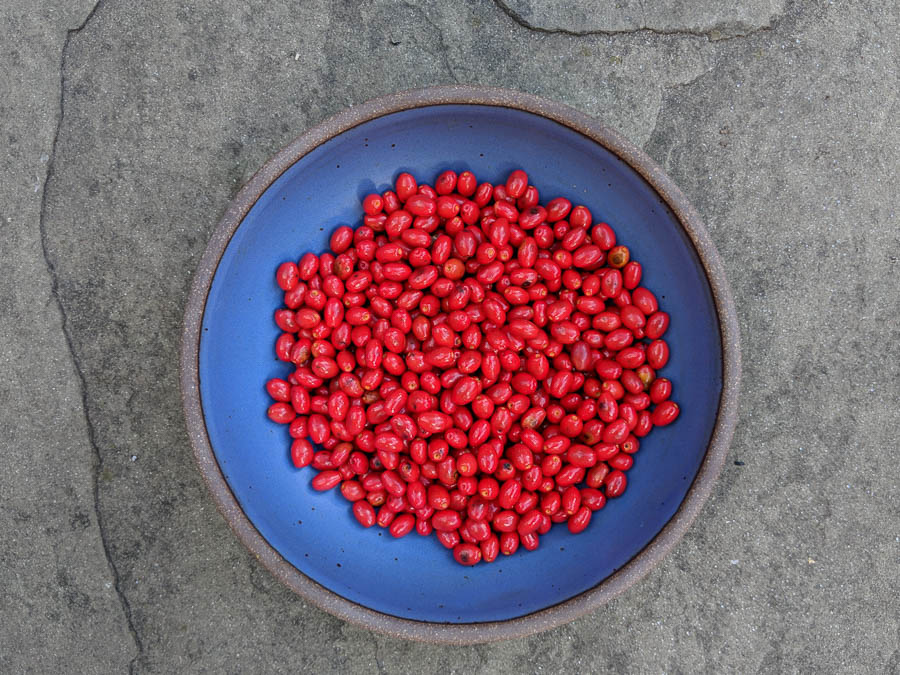 Unfortunately this year I wasn't able to dehydrate many spiceberries, but I did have some fresh-frozen berries stashed in the freezer. This led me to experiment with a wet ground paste, which I was initially hesitant about because I like the uniformity of the dehydrated powder. However, I found that the wet ground paste works well in a cake batter, particularly when whisked together with the sugar and eggs.
After testing this recipe with just the wet spicebush berry paste, my biggest critique was that the apples didn't taste enough like spicebush berry! Luckily, sprinkling some powder from the dehydrated berries onto the freshly cut apples seemed to do the trick. If you don't have any dehydrated spiceberries, feel free to leave this step out, as the plain apples do provide a nice counterpoint to the spicebush berry-perfumed batter.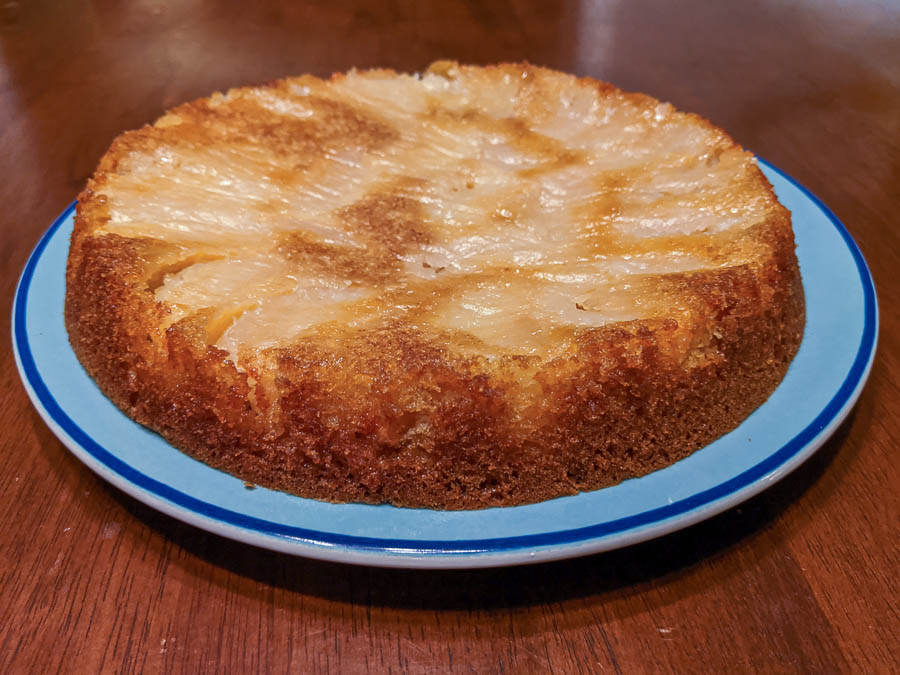 French Upside Down Apple Cake with Spicebush Berries Recipe
A light autumnal cake that is equally at home as a snack or a light dessert. This recipe is adapted from Clotilde Dusoulier's Gateau de Mamy.
Serves: 6-8
Active time: 15 minutes
Inactive time: 40 minutes
Spicebush Apple Cake Ingredients
8

Tablespoons (115g) unsalted butter, melted and cooled to room temperature

1

pound (roughly 500g) tart apples, peeled, cored and cut into eighths

¼

teaspoon spicebush berry powder from dehydrated berries (optional, see note)

¾

cup (150 grams) brown sugar

2

large eggs

¾

teaspoon wet ground spicebush berry paste (see note)

½

cup (70g) all-purpose flour

¼

teaspoon fine sea salt

1

teaspoon baking powder
Spicebush Apple Cake Directions
Preheat the oven to 350F. Grease an 8-inch round cake pan with butter. Cut a circular piece of parchment paper to fit snugly into the bottom of the pan and place in the pan.
If using spicebush berry powder, sprinkle the apples with the powder in a large bowl, then gently toss to distribute.
Arrange the apples in one layer in the pan, roughly in concentric circles. If there are any slices that don't fit, just eat them!
In a medium mixing bowl, whisk the sugar, eggs, and spicebush berry paste until the mixture starts to pale, about 3-5 minutes by hand.
In another medium bowl, mix the flour, salt, and baking powder together. Pour the egg-mixture into the flour-mixture and stir until just combined. Pour in the cooled butter and stir until just combined once again.
Pour the batter over the apples, making sure that it is evenly distributed. Pop in the oven and bake for 35-40 minutes, or until the top is golden brown.
Place the pan on a rack for about 10 minutes, allowing the cake to cool a bit. Run a butter knife around the edges of the pan to loosen the cake. Place your serving plate on top of the pan, then pressing the pan and plate together, flip the whole thing over to de-pan the cake. Remove your parchment paper and voila!
Serve warm or at room temperature.
Spicebush Apple Cake Notes
I like to use Jonathan or Jonagold apples in this cake, if available, although any tart baking apple will work.
Wet ground spicebush berry paste. My favorite way to make a wet ground spicebush berry paste is to start with whole frozen spicebush berries then process them in a coffee grinder or spice mill till they form a smooth paste. A mortar and pestle would work nicely as well. Once the paste has formed, just make sure that there aren't any large chunks lurking amongst the paste. If you find one, you can mash it with a spoon, or just remove it from the paste.
Spicebush berry powder. To make a finely ground spicebush berry powder, I like to take frozen dehydrated berries and pop them into a coffee grinder, then process till they're finely ground. The reason I used frozen berries is because I store my dehydrated berries in the freezer to prevent rancidity. I imagine that room temp dehydrated berries would work as well. Once powdered in the coffee grinder or spice mill, I pass the powder through a fine mesh sieve to break up any clumps.
---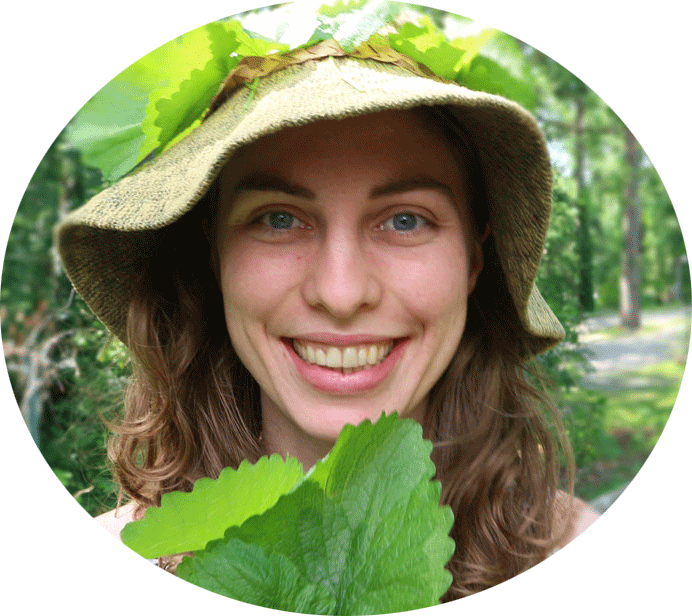 ---
More Spicebush Posts