---
---
---
Jump to Recipe ↓
Pine Needle Sugar Cookies
Many people are surprised to learn that pine needles are edible! They are a wonderful food to forage because they are abundant, forageable year-round, easy to identify, and have few toxic lookalikes. I will cover pine identification in-depth in the next episode. While some people are hesitant about the flavor of pine needles due to the common presence of pine scent in cleaning products, many are surprised by the pleasant citrusy notes in the pine needles.
To draw the focus away from the resinous notes of pine towards the more comfortable and familiar citrus flavor, I set out to craft a pine-citrus cookie that would be a welcome addition to any holiday cookie platter. Although my first instinct was to make a pine needle extract to flavor the cookies, I challenged myself to make a recipe that could be created in one sitting, instead of relying on make-ahead components. This meant grinding up some pine needles to see if the pine needle powder could provide the flavor I wanted.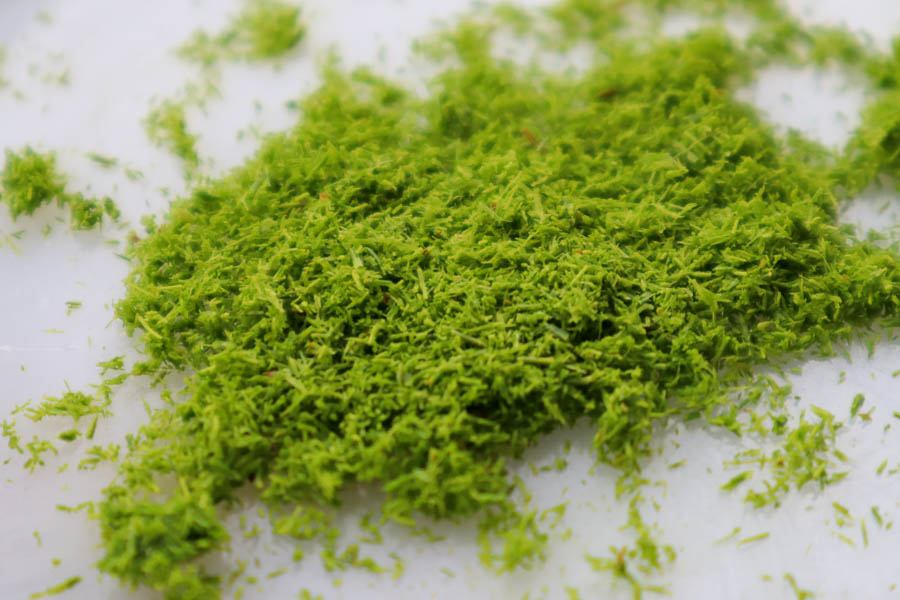 The biggest difficulty I encountered with the pine needle powder was getting the pine flavor to be present in the final product. I started out with a few teaspoons of pine needle powder, thinking it would have a similar strength in flavor to citrus zest, but I was quite surprised when it went undetected in the final cookie. I kept dialing up the pine until its flavor was strong enough to pair with the lime, shocked when it took nearly ⅓ cup of gently packed needles.
One pleasant side effect of using so much pine needle powder is that the cookies have a naturally green color! This makes them an excellent holiday cookie for those who are looking for something wintery and colorful without any synthetic food coloring.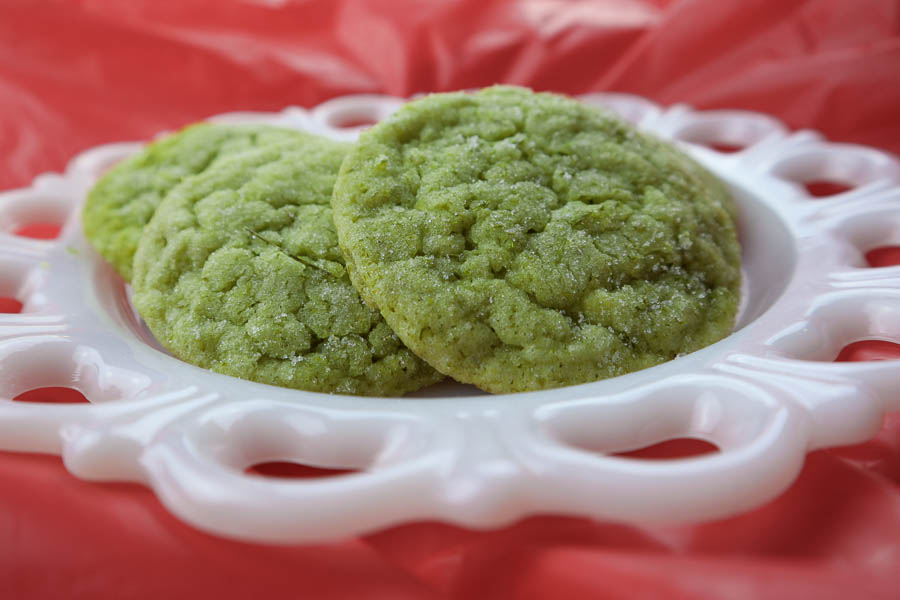 Citrusy Pine Needle Sugar Cookies Recipe
These cookies celebrate the persistent pines with their edible needles that can be foraged year-round, even when most of the world is coated in a snowy white blanket. The lime flavor brings out the often-ignored citrusy side of the pine needles to create a unique cookie that tastes pleasantly of the winter forest. You can harvest the pine needles any time of the year - that's the magic of evergreens! - but the pine flavor will be even more citrusy and delicate if you gather young pine needles in the spring.
Inspired by Stella Parks' Soft and Chewy Sugar Cookies and Lemon Sugar Cookies from Dorie's Cookies.
Makes: about 45 cookies
Active time: 1 hour 15 minutes
Pine Needle Sugar Cookie Ingredients
For the dough

1 ½

cups (300g) sugar

⅓

cup (18g) freshly ground pine-needle powder, lightly packed (from about five 6-inch pine branches, see note below)

1

teaspoon lightly packed lime zest (from 1-2 limes)

2 ¾

cups (374 grams) all-purpose flour

1

teaspoon baking soda

½

teaspoon baking powder

2

sticks (8 Tablespoons; 226g) unsalted butter, at room temperature

½

teaspoon fine sea salt

1

large egg, at room temperature

¼

cup freshly squeezed lime juice (from about 2-3 limes)

For rolling the cookies

2

teaspoons freshly ground pine needle powder (see note below)

½

cup (100g) sugar
Pine Needle Sugar Cookie Directions
Preheat the oven to 350F and line your baking sheet(s) with either parchment paper or silicone baking mats.
Combine 1 ½ cups of the sugar, ⅓ cup of the pine needle powder, and the lime zest in the bowl of a stand mixer. Rub everything together with your fingertips, breaking up any clumps as you go, until the sugar has taken on a sandy texture and a vibrant green color. Set aside to let the sugar infuse.
Meanwhile, whisk together the flour, baking soda and baking powder in a medium bowl. Set aside.
Fit the stand mixer with the paddle attachment and add the butter and salt to the infused sugar. Mix on medium speed until the mixture is smooth, about 2 minutes. Scrape down any batter that has crept up the sides of the bowl. Toss in the egg and lime juice and resume mixing on medium speed until well combined, about 2 more minutes. Gently add half of the flour mixture and mix on the lowest speed until just combined. Scrape down the bowl and add the rest of the flour mixture. Continue mixing on low speed until the dough comes together and there are no visible traces of flour.
In a wide shallow bowl, mix together ½ cup of the sugar and 2 tsp of the pine needle powder, if using. Scoop out tablespoon-sized clumps of dough and quickly roll them in your palms to form rough spheres. Roll each dough ball in the sugar, chasing it around the bowl with your fingertips until it has a nice coating of sugar. Place the dough balls on a baking sheet, leaving at least 2 inches between the cookies since they will spread.
Bake for 8-10 minutes, or until pale gold around the edges with crackles forming on top. Cool the cookies on the pan until firm, about 5-10 minutes, then either transfer to racks or leave on the pan to cool completely. Repeat with the remaining dough.
Cookies will last for about 5 days at room temperature if kept in an airtight container. You can also pack them airtight and freeze for up to 2 months, thawing out before eating.
Pine Needle Powder Directions
Take your pine branches and strip the needles off of the branch by holding onto the tip of the branch with one hand, then running your other hand along the branch, pulling the needles back until they pop off, like you might strip a branch of rosemary (see the video up top if you are confused).
Take your loose needles and snip them into roughly 1-inch pieces with a pair of gardening shears or sharp scissors, it's okay if they're not exact.
Working in batches, place the pine needle pieces into a clean spice / coffee grinder and pulse until a fluffy fine powder is formed. Remove any noticeably long pieces of pine needles that have escaped the grinder blade.
I like to use my pine needle powder within a week, stored in an airtight container.
---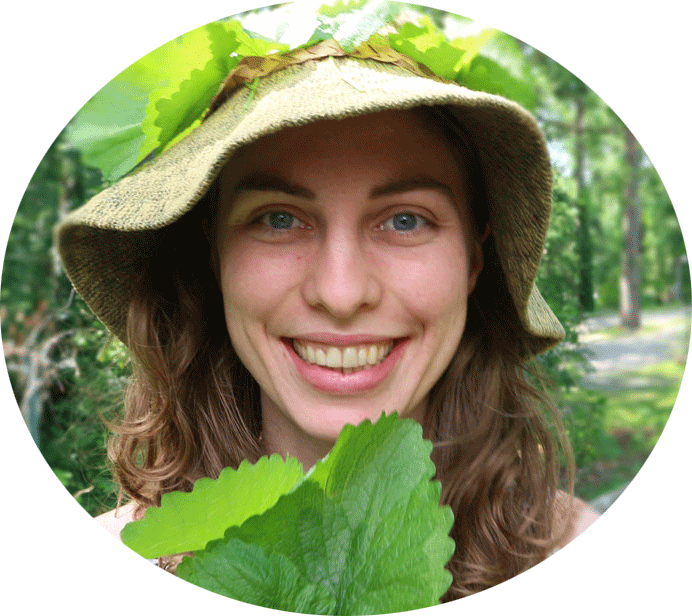 ---
More Winter Posts